ECO-NT - Technique for a perfect 5-axis machining

The new ECO NT series by Reichenbacher Hamuel guarantees absolute con-tour accuracy, the highest surface quality and precision. With the new fixed and low vibration gantry concept, the fixed machining table on a rugged frame and the high Z-axis every classical routing process can be carried out.

All machining positions at the workpiece are machined from all sides. The coordinate table concept with setting bushes and fixing holes allows a safe and quick change of workpieces. With the 3D-measuring pin the reference points are read and memorised in the control. In practise this means highest workpiece accuracies. The ECO-NT types are of special interest for customers who process plastics, composites and aluminium.


5-axis machining with 4.6kW high performance frequency spindles, spindle speed up to 60,000 rpm, HSK 40 tool fixtures (alternatively 15 kW spindle with HSK 63), further options on demand

Tables in tubular frame construction with vacuum and pneumatic system
Machining dimensions 1x 3,600 / 1,000 / 700mm or with partition of working area for reciprocal machining 2x 1,200 / 1,000 / 700mm
Tool magazine with 8 or 10 places, moveable (alternatively fixed chain magazine with 40 places), further options on demand

NC-axes, numerically controlled motions:
X = 4,200mm = Transversal motion
Y = 1,600mm = Longitudinal motion
Z = 1,000mm = Vertical motion
B 135° = Swivelling motion
C 360° = Rotation
Feed rates:
in X-direction: 80m/min
in Y- direction: 80m/min
in Z- direction: 40m/min
Feed drives:
Maintenance-free, high-dynamic servo-motors with modern digital drive control and an integrated absolute value transmitter (measuring system)

Latest control technology Sinumerik 840D Solution Line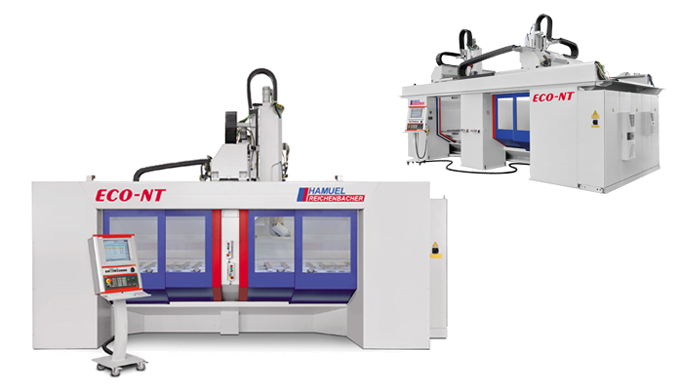 Efficient and versatile
Demanding free form machining is realised with the 5-axis technique. In every day's practice the machines convince by optimum shaped working areas, chips falling free upon the chip removal belt and by their robustness. The machine is completely enclosed and the loading area is shut by two sliding doors. With reciprocal loading each door can be opened separately. By removing the middle partition the double working area is available, for example for the machining of long parts.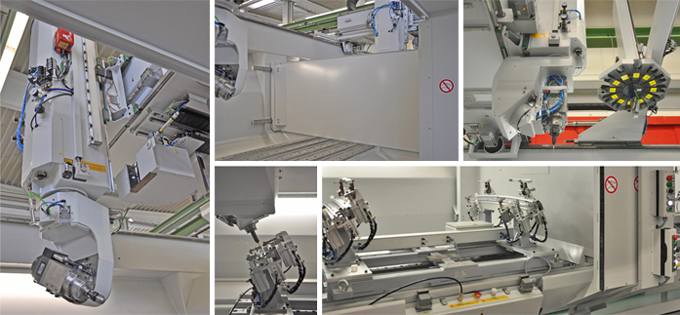 The ECO NT has an integrated tool changing system with eight tool places, which is mounted movable to the X-slide. Tools with a length of up to 140mm and a diameter of up to 40mm can be used. Due to less moved masses the machine has a higher speed and accuracy. The high performance frequency spindle with up to 60,000 rpm for efficient machining is equipped with a blast nozzle or a minimum greasing unit which both can be activated and deactivated by the NC-control.
Control with safety integrated
This demanding task is reliably solved by the latest generation of controls, the Sinumerik 840D solution line (sl) by Siemens. Operation and programming of the machine are carried out time saving and simple by a graphic user surface. Protection of the machine by safety integrated. Programs can run in automatic mode with the door open under observation of the safety regulations. Reichenbacher Hamuel presents an open system solution which is based on the current industrial standards and can be seamlessly fit into every existing production.